Sunday at The Meditation Center September 15, 2019 Sunday Morning Guided Meditation, Sunday Satsang, Bioefeedback Mini Sessions
Sunday at The Meditation Center
September 15, 2019
Sunday Morning Guided Meditation
with Emilio Betagglio
8:30 a.m. – 9:30 a.m.

On Sunday, September 15th, join Emilio Bettaglio for a guided meditation from 8:30 a.m. – 9:30 a.m. in the Hall of the Tradition.Stay for tea and conversation, then join Jim Nelson and Michael Smith for Sunday Satsang at 10:00 a.m. or sign-up for a mini-biofeedback session with Daniel Hertz.
Sunday Satsang
with Jim Nelson and Michael Smith
10:00 a.m. – Noon

Each two-hour session features:Hatha, Relaxation, Meditation, Presentation, and Discussion

This Sunday, after the summer break, the Sunday Satsang Sessions will resume. It's been over two months since we last met, so it will be interesting to hear what the summer has brought to everyone. 

One of the main Sunday Satsang themes over the past year has been The Four Stages of Life, with an emphasis on the Third Stage of Life, known as Vanaprastha, roughly from age 50 to age 75. In India it is known as the "Forest-Dweller Stage." In the West, it would approximate the time when one retires from a full-time job and pares down one's household duties.  When Swami Ritavan was here last July, he wanted people in The Meditation Center community to develop a more focused approach to their sadhanas, and to re-think Vanaprastha, not as an abstract idea, but as a spiritual aspiration to work towards, with practical, concrete steps. 

Following Swami Ritavan's recommendation, we will begin the fall sessions with some important aspects of Vanaprastha that can be done at any stage of life: decluttering, down-sizing and space-clearing.

How do these pertain to various levels of one's life and personality materially and psychologically?   What are the benefits of doing these things? What are some strategies about how to do them?  
Biofeedback Mini Sessions at TMC
Sundays: September 15, 22, and 29, 2019
10:00 a.m. – Noon
Book a 25 minute mini biofeedback session here
with Daniel Hertz
Cost: $25.00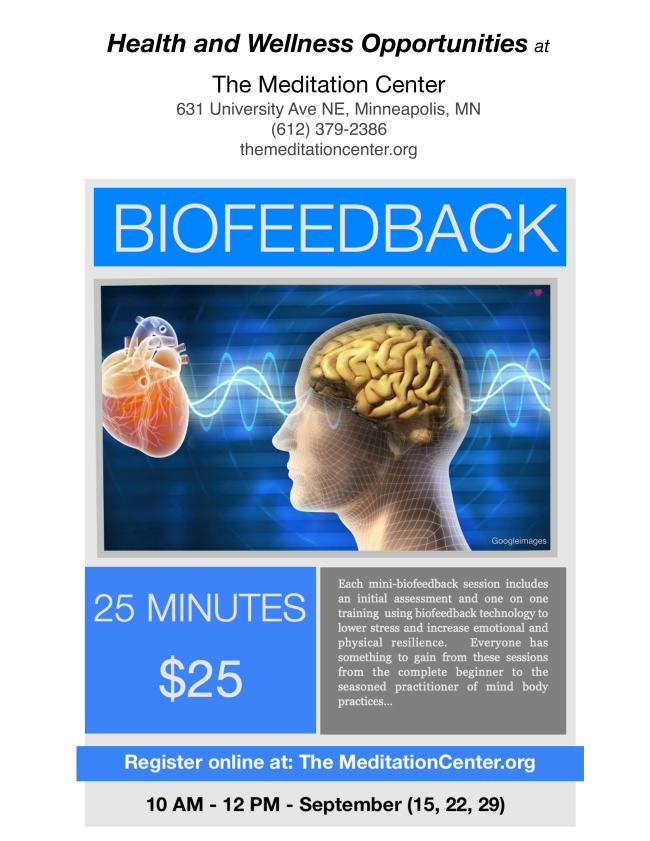 Each mini biofeedback session includes an initial assessment and one-on-one training using biofeedback technology to lower stress and increase emotional and physical resilience. Everyone has something to gain from these sessions, from the complete beginner to the seasoned practitioner of mind/body practices.